Regular price
Sale price
$19.95 USD
Unit price
per
Sale
Sold out
The Best Flash Driver EVER!
The wait is over! Ozoloo™ brings you a 4 in 1 Flash Drive that helps you stay on top of managing your data.
Do you often face the issue of running out of memory from your phone or laptop?
We can all imagine the pain of not being able to capture precious moments due to issues with memory.
Well, not anymore!
The best Flash Drive ever is here to the rescue! Imagine being able to quickly transfer your photos or videos to a portable device that is compatible with every kind of system out there in the market.

Manage Data Easily

The 4 in 1 Flash Drive by Ozoloo™ helps you keep track of your data without any hassle. The multi-purpose USB comes with a mobile app that can be downloaded to your system.

This app helps you manage your data and files directly on the card reader. It allows you to create, delete, rename, move, or copy your data by the click of a button!

Everything from music to playing videos, recording sounds, contact list backups, and viewing camera photos can be done using the built-in App. This makes sure that you never run out of space on your device.
Supports All Devices
What makes the 4 in 1 Flash Drive unique is its compatibility with the different kinds of devices out there.
The flash drive works best with Android, Microsoft, and Apple products. It comes with different types of connection points and holds memory cards of various sizes.
With this flash drive by your side, you won't have to worry about managing your data and space ever again!
Easy Transfer
The 4 in 1 Flash Drive by Ozoloo™ helps you transfer data in the blink of an eye! Connect the USB with any device and transfer data within seconds.
Plus, its compact in size and comes with individual covers so that the USB connections stay protected.
PS. There's also a surprise micro-USB so that you never have to worry about that either!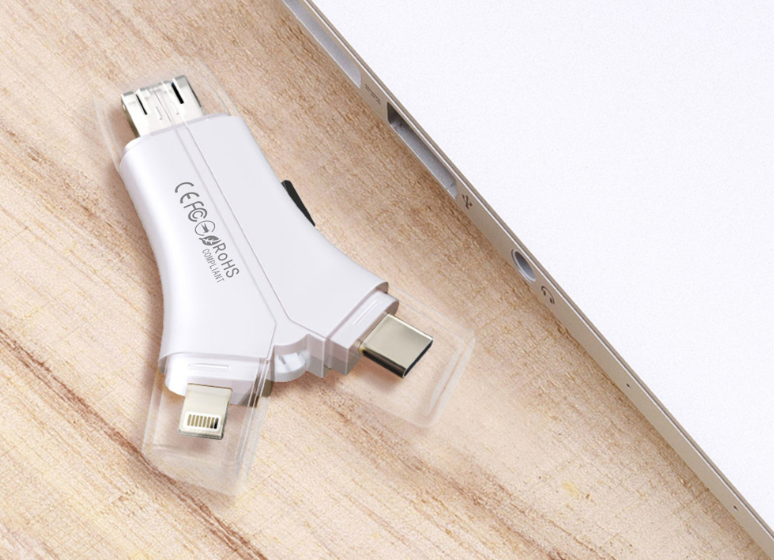 View full details